This round up of 17 must make ground venison recipes is sure to make your mouth water. They are all healthy, meaning made with only real food ingredients.
So you have some ground venison, and now your sitting in the kitchen like "what the heck do I do with this?"
I can help with that.
I have rounded up the tastiest, healthier ground venison recipes from bloggers who specialize in using game meats for the most part. Every recipe is gluten free on the list and some are even paleo/whole30 friendly.
So despite the dinner time differences you may be dealing with you will find your next dinner recipe here.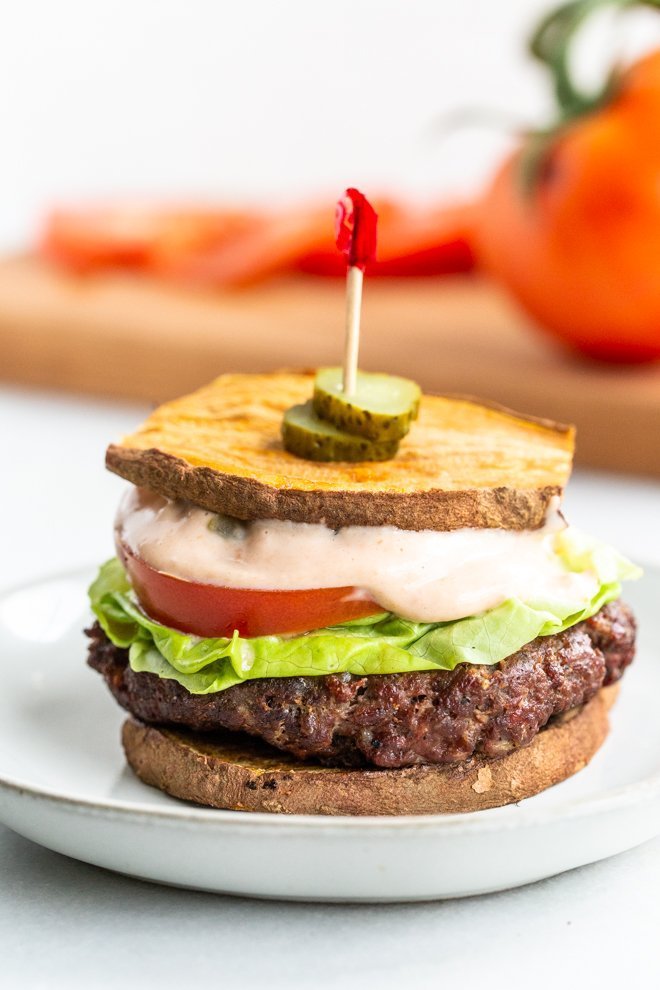 First, juicy venison burgers. Second a Whole30 friendly special sauce for that burger, um yes please. And give me all the leftovers. These burgers can be thrown on a sweet potato bun or your favorite way to eat a burger like in a bowl.
2. Texas Style Keto Venison Chili by Tales of a Texas Granola Girl
What better way to make Texas chili than from a real Texan? Because chili should be made all year around, you need to have a go to recipe. This venison chili is slow simmered and is keto friendly.
3. Spaghetti Sauce Made with Ground Venison by Primal Pioneer
This recipe is full of pantry staples for a tasty homemade meat sauce using up that ground venison. Serve over what ever feels right! Could be zoodles could be potatoes, anything would go with this zesty sauce.
4. Best Ever Venison Meatballs by Miss Allies Kitchen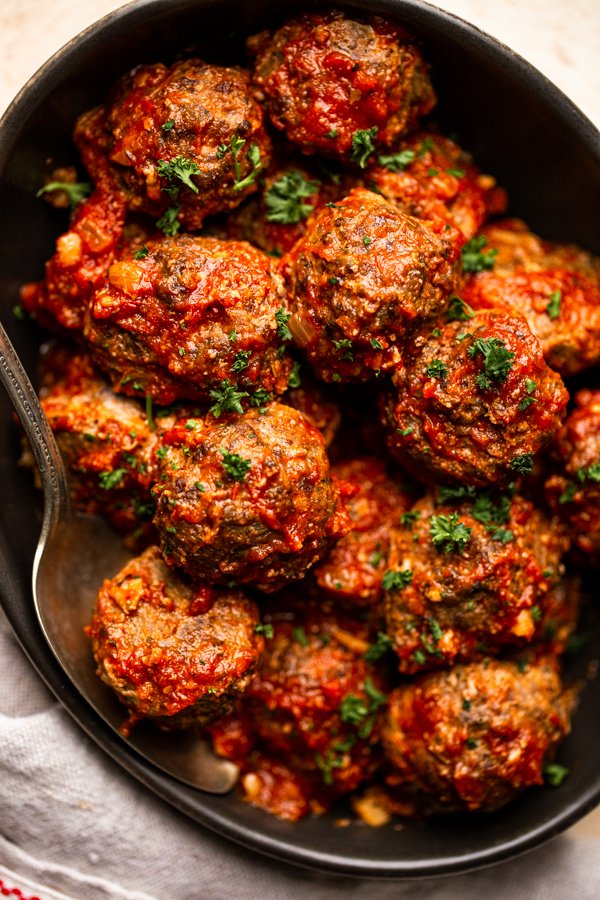 Miss Allie at it again with another amazing recipe in the round up. Allie makes these venison meatballs with almond meal making them naturally gluten free and keto friendly. These are created with some of the best ingredients. Red wine vinegar, garlic oh my!
5. Venison Shepherds Pie by Midwest Nice Blog
This recipe looks so mouthwatering! Just look at that gravy peaking out from the sides of the mashed potatoes. Also loaded with veggies so you get everything you need in one meal. You better head to the blog fast.
6. Venison Green Chili Enchilada Casserole by Primal Pioneer
I mean first of all, look at that cheese. Second of all I don't think you can EVER go wrong with enchiladas. And green chili enchiladas to boot. This recipe has a little kick perfect for anyone looking for a little heat with their ground venison.
7. Ground Venison Roll Up by Nevada Foodies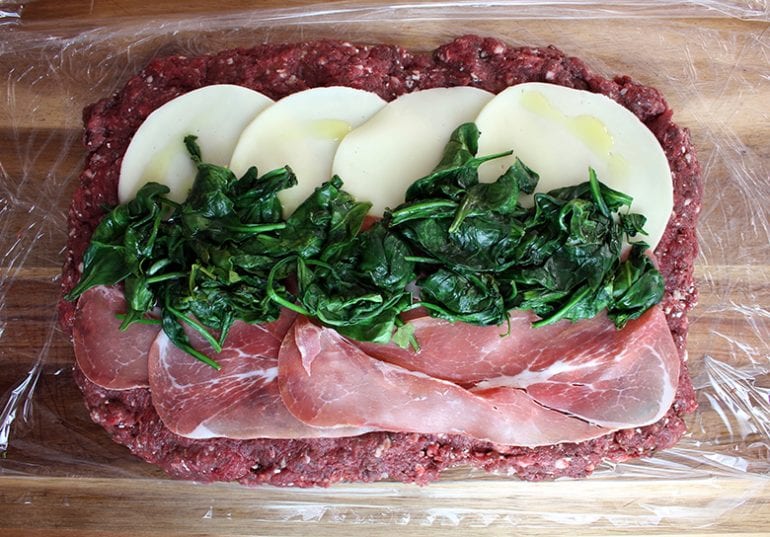 This creative use of ground venison will look and taste so fancy. I love the flavor combos here and it's a perfect way to shake things up in a low carb/keto kind of way.
8. Venison Cheesesteak Sloppy Joes by Karlys Kulinary Krusade
Green peppers, bacon, cheese oh my! These cheesesteak sloppy joes look so epic and full of flavor. Be sure to find a GF bun or eat straight out of the bowl if you need that!
9. Venison Skillet Recipe by Divine Lifestyle
Skillet meals are the best. There is nothing better than throwing everything you need into one skillet, because you know it will be fast, fresh and delicious. This skillet is made with pantry staples and easy to find veggies.
10. Whole30 Venison Freezer Meatloaf by Miss Allies Kitchen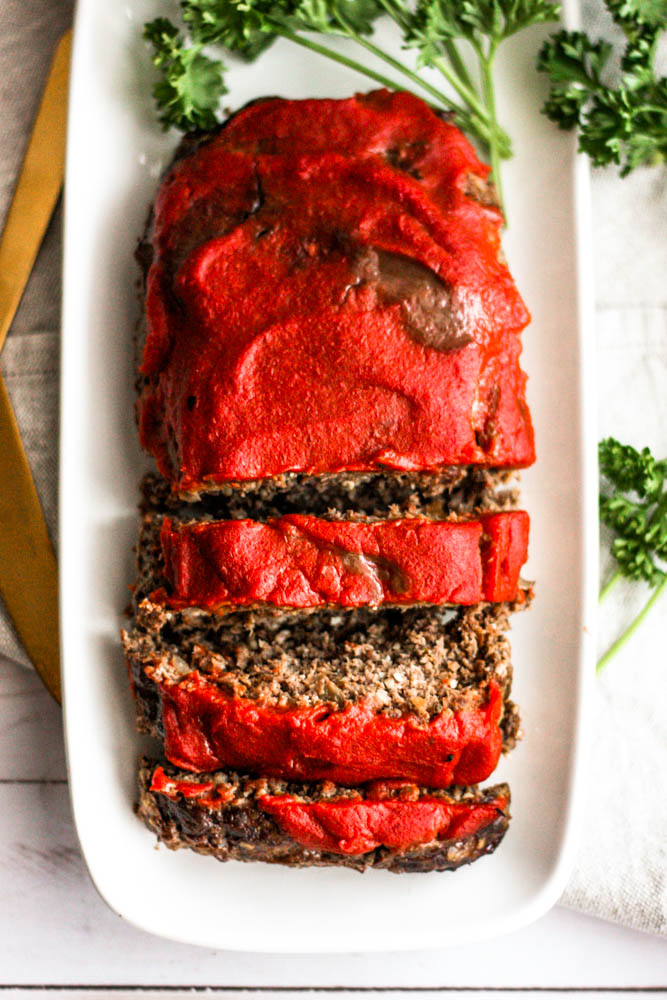 Oh hey, its Miss Allie yet again. Sorry not sorry. Her photos and recipes are incredible. Just try and tell me you don't want to eat that meatloaf all by yourself. This venison meatloaf is Whole30 friendly but the best part is that its a freezer meatloaf. Which means you assemble it and place in the freezer and bake it when you are ready.
That means if you have a crap ton of deer you need to do something with and can't eat it all at once this recipe is perfect for you.
11. Venison Tacos by Semiconservative Granola Girl
Tuesdays won't be the same unless you have venison tacos to make. These are perfect to make so that you can offer something for everyone at the table. Use the meat in a shell, on a salad or wrapped in lettuce.
12. Dirty Cauliflower Rice by Joy Filled Eats
This keto friendly dish gets its flavor from classic creole flavors. Simple and on the table in 30 minutes. This recipe is also dairy free and gluten free.
13. Venison Meatball Alfredo and Zucchini Noodles by Honey Bunch Hunts
Another tasty keto and low carb friendly venison dish. This recipe makes a big serving so perfect for meal prep or a large family. Uses a premade alfredo for a quick dinner.
14. Keto Cornbread Casserole with Ground Venison by Texas Granola Girl
Just look at that crust! I mean who wouldn't want to dive head first into that sweet corn bread layer. Keto friendly a comfort food dinner at heart. This recipe is savory, spicy and topped with cheese.
15. Instant Pot Venison Shepherds Pie by Miss Allies Kitchen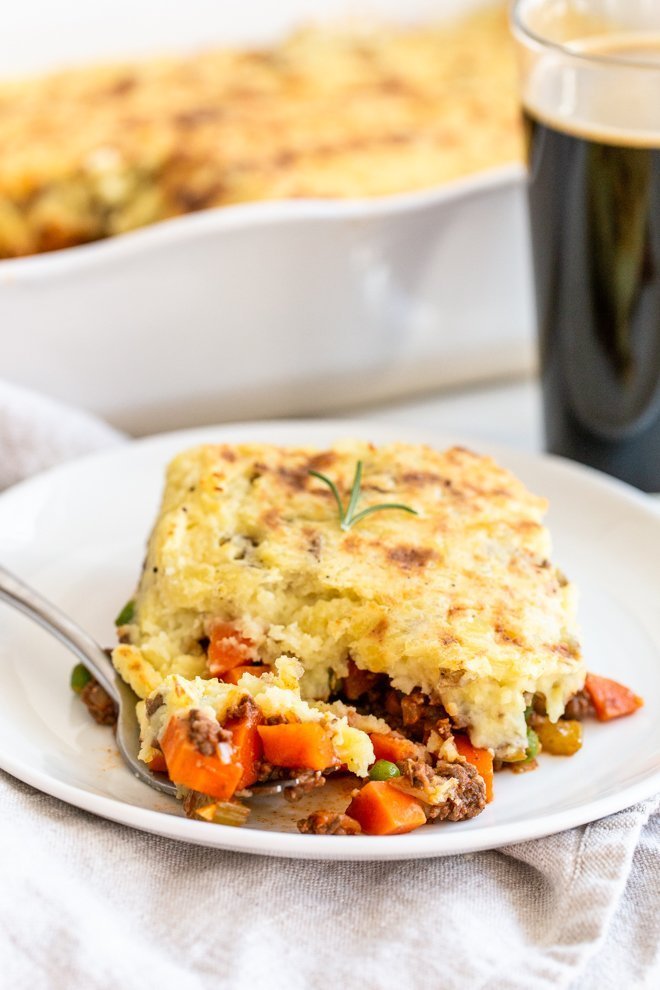 Miss Allie certainly knows her way around ground venison. This shepherds pie has a mashed potato topping and tomatoey inside. She uses beer in her recipe which I am sure is amazing but be sure to sub in a beer that is friendly for your dietary needs like gluten free.
16. Slow Cooker Ground Venison and Cabbage Soup by Timber 2 Table by Real Tree
An easy hands off dinner that simmers all day in the slow cooker. Perfect for those cold winter nights, packed with veggies and ground venison.
17. Venison Sausage Patties by Weight Watchers
Let's be clear, this recipe looks delicious which is why it made it to the round up, not because it is Weight Watchers. You can use these patties for breakfast or use them in a casserole. The spices look sensational and it even has green apple for a twist.
Sharing is caring
I hope you loved this round up of healthy ground venison recipes. I hope it saved you time and you found several to save for later! Be sure to Pin this post for later by clicking any of the pictures and share with your friends on Facebook!