Stuck wondering what to serve with chicken parmesan? This comprehensive guide will share 15 of the best side dishes to bring the best flavors to your dinner table. Plus they all work for a gluten free or regular diet.
Finding a side dish that is as exciting as the main course can be tough. Who the heck has time to figure out this thing called dinner anyway?
When you are stuck in a rut with what to serve with your chicken parmesan check out these 15 original ways to spice up your dinner night!
Don't worry all of these side dishes work for a gluten free or regular diet. Plus there are a ton of low carb/keto options as well. Making a dinner that works for everyone has never been easier.
Jump to:
Veggie side dishes
You will not have to be low carb or looking or something healthy to love the flavor of this spaghetti squash. The basil will pair perfectly with your chicken parmesan.
Spaghetti squash is an ingredient that meal preps well. So spending time cooking it ahead of time will spare you some free moments during the week.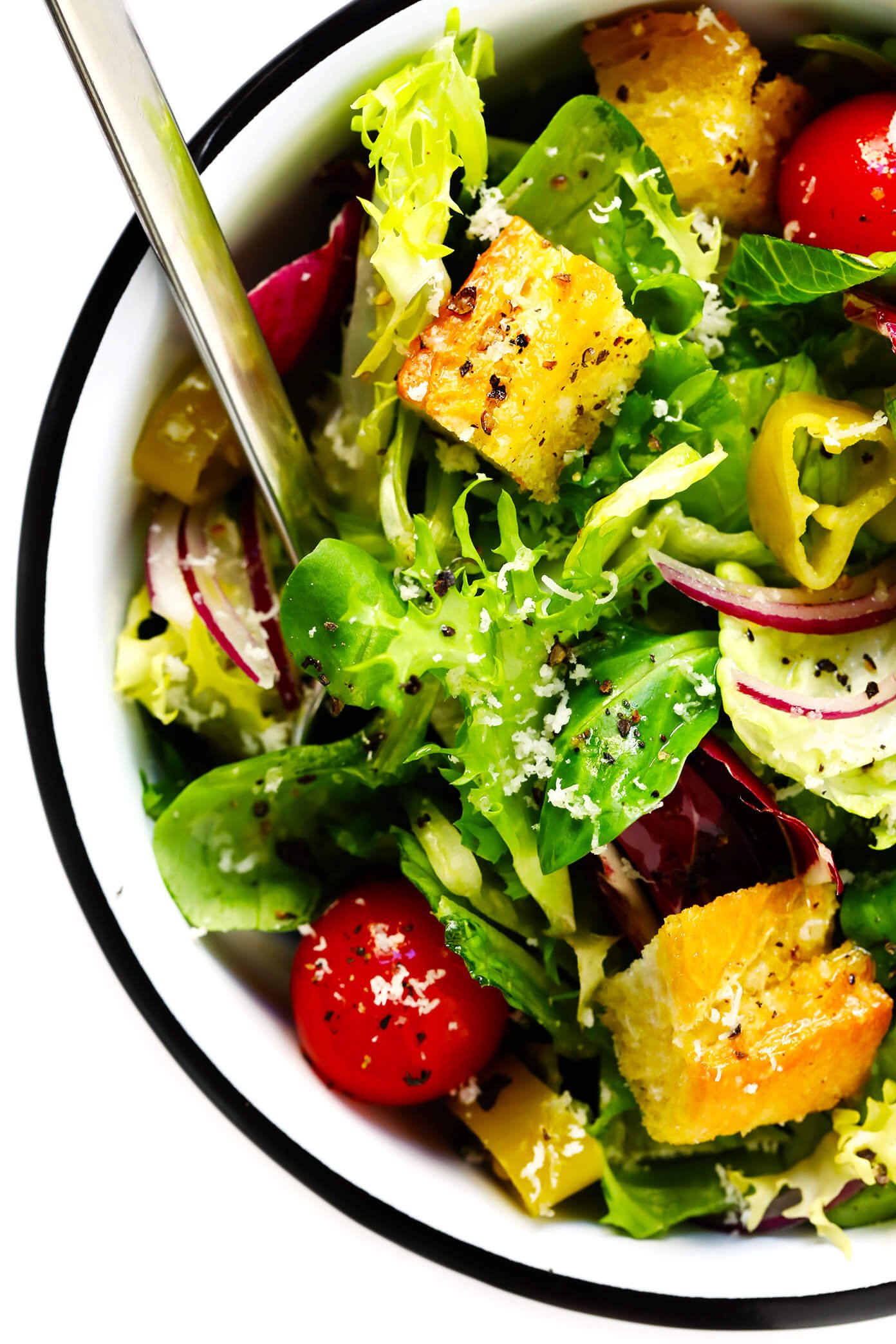 No one in the world will be mad about having an Italian salad inspired by the infamaous Olive Garden salad.
Let's be real, that salad is amazing and would be perfect for chicken parmesan. It is simple, zesty and uses a homemade Italian vinaigrette.
Nothing beats homemade salad dressing. It makes any salad better.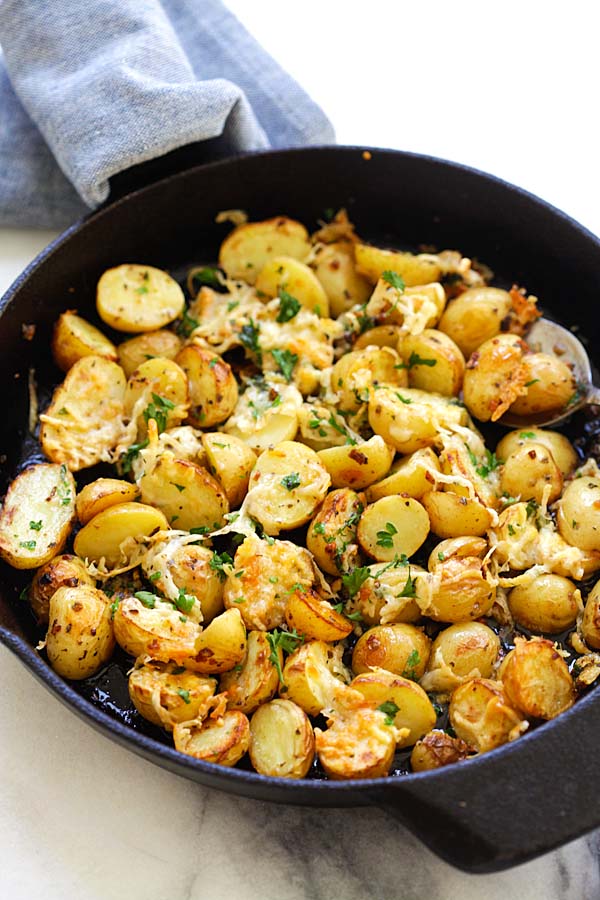 Crispy oven roasted potatoes from Rasa Malaysia sound like the perfect comforting side dish.
Topped with cheese, butter and a delicious spice mix, they will be easy to roast while you are tending to other dinner items.
This Lemon Rosemary Broccoli is a reader favorite here on SRB!
It is easy, roasts beautifully and has super fresh ingredients. This would be a perfect side veggie to use if you went with a pasta too.
Mozzarrella and basil stuffed tomatoes by Simply Recipes sound and look absolutely divine.
Stuffed with two types of cheese and an array of Italian flavors.
This recipe calls for bread crumbs from a slice of bread so that is an easy swap for gluten free if needed!
Have you tried zoodles yet?
Zoodles are zucchinis cut into spiral shapes pasta noodles. Hence the name zoodles.
They are super fast to make and this recipe by Wholesome Yum shares how to make them in a variety of ways like in the oven or stove top!
Just top your chicken parmesan on the zoodles just like you would spaghetti. This is gluten free and low carb.
The Girl Who Ate Everything was not messing around when she created this antipasto salad.
It is loaded with hunks of cheese, salami, spicy pepperoncinis just to name a few. My mouth is watering just looking at it.
This is a salad that is perfect for keto dieters or anyone looking to keep the carbs low with your meal. This is also gluten free friendly.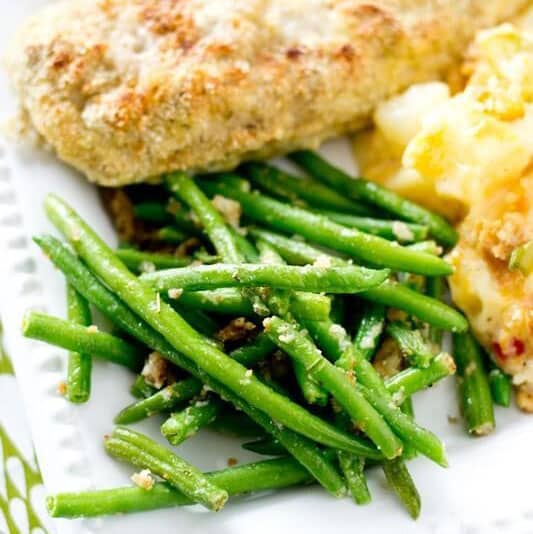 Frozen green beans sauteed in butter and topped with parmesan cheese and breadcrumbs.
Just be sure to grab the gluten free breadcrumbs if you need them or leave them out. These green beans will still be delicious.
Heading back over to Wholesome Yum for another delicious veggie dish.
This would be like eggplant parm meets chicken parm in one epic taste bud explosion. This eggplant dish is roasted and ready in under 35 minutes.
It is also gluten free so no need to worry about swapping anything out.
Pasta and grains with gluten free options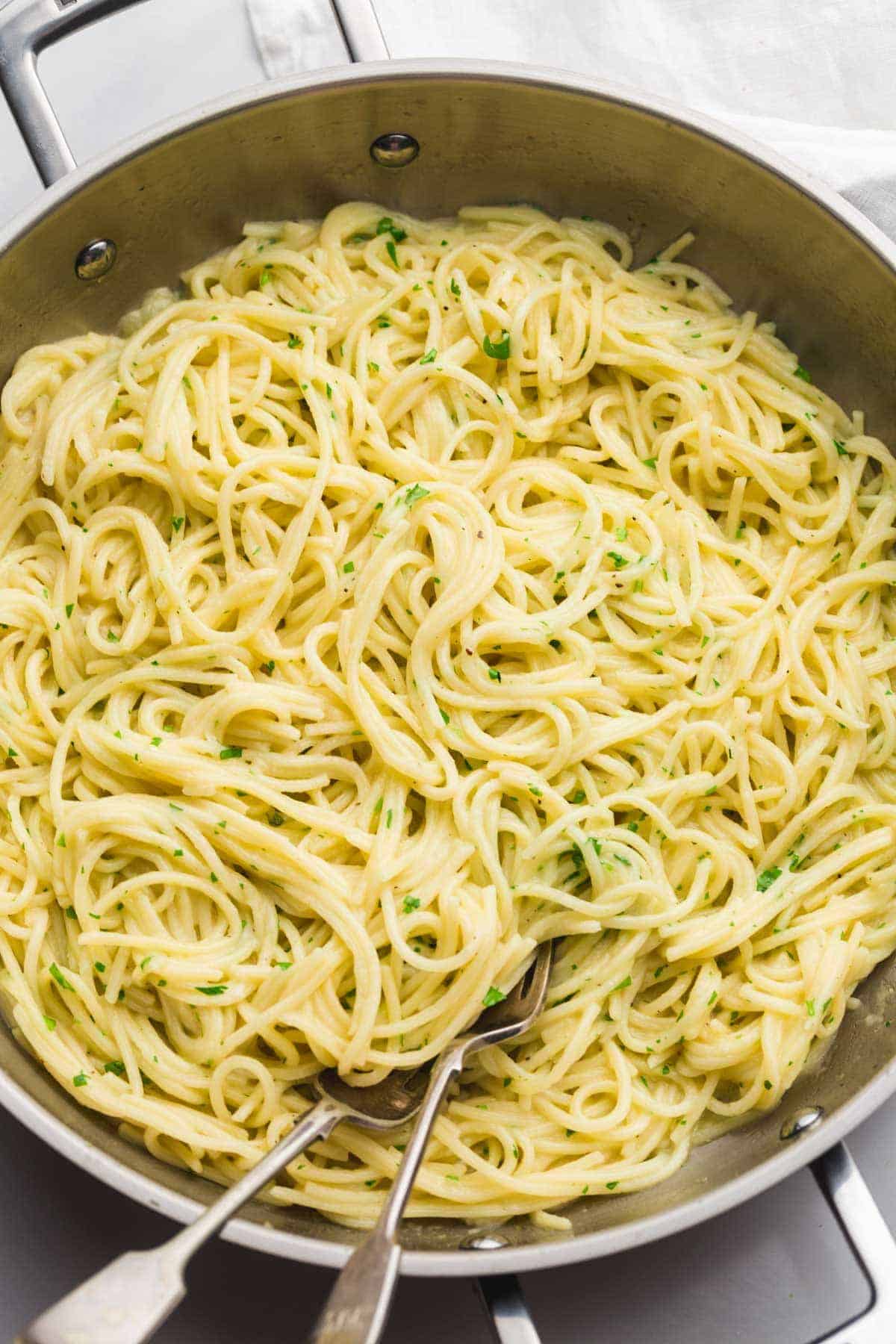 IKYK (I know you know) that spaghetti obviously pairs well with chicken parmesan. But what if we spice things up a bit?
What if instead of plain spaghetti we use this buttery garlic pasta from Little Sunny Kitchen?
It's smothered with a garlicy butter and topped with fresh parmesan and parsley. Plus major bonus, all kids love garlic butter noodles. If you have picky eaters that won't touch the chicken parm they will still have a meal to eat.
You can make this side gluten free or regular by a simple swap of the type of pasta you use.
All Our Way has a highly rated Italian sandwich roll recipe if you are feeling like baking!
Turning your chicken parmesan into a hoagie would be a fantastic twist on this classic dinner.
This is a regular bread (with gluten recipe) but check out the option below for gluten free hoagie ideas!
These beauties are gluten free and made with to mimic the texture of those delicious Subway sandwich rolls.
These are gluten free and made by Gluten Free on Shoestring. (Image credit: Gluten Free on a Shoestring)
Think macaroni and cheese, but better. This dish has a gluten free and regular instructions and looks simple to make
Very easy to find ingredients that combined make you feel like you upgraded mac and cheese made perfectly for an Italian dinner.
A hot pasta dish to serve as a side for your chicken. This has all the flavors of a caprese salad with the addition of pasta.
Full of tomato, fresh basil and garlic!
Again another dish to make gluten free with a swap of the pasta used.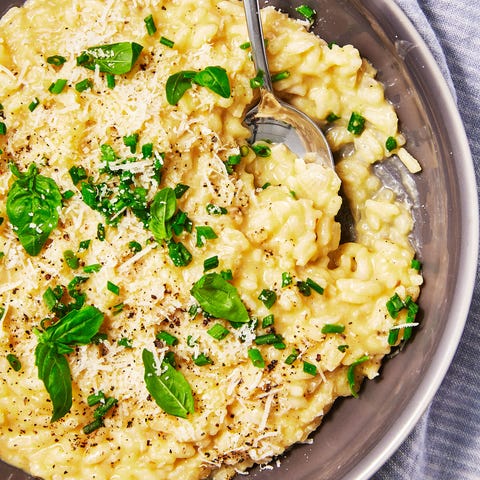 Risotto is a comfort dish like no other. It is creamy and decadent and actually really easy to make.
Risotto uses arborio rice so this recipe is naturally gluten free. Delish uses wine, butter and parmesan to flavor this amazing rice dish.
Which is your favorite?
Did you find a favorite in this round up of what to serve with chicken parmesan? I hope you were able to find tons to switch it up each time you make dinner!
Be sure to let me know below which one is your favorite.